Today Girl Develop It celebrates its 5th anniversary! In just 5 short years they've gone from a small group of women to 54 chapters! Over 1,400 GDI classes have been taught. With nearly 60,000 attendees!!
Creating a network of empowered woman who feel confident in their abilities.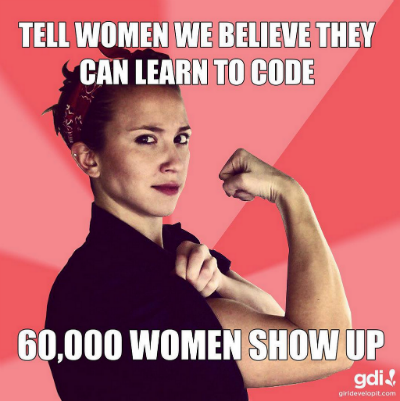 Being A Woman In Tech Is Never Easy
It's clear to most women when they start their career in technology—or walk into their first college programming class—that they are the minority. This is where the drop off begins.
It's hard to ever feel like you belong. You spend a majority of your career proving yourself: proving to your managers that you are intelligent and capable; proving to your co-workers you are not a "weak link". All the while your head is filled with a constant debate over whether this is really the right career for you.
For the majority of my career I felt the solution to this was to fit in, to try to be "one of the guys". I listened to sports, followed video games, tried to like beer, even got some geeky tees & hoodies to wear with my jeans. Anything that would give me a common ground, and help me be seen as an equal. This also made me avoid any Women in Tech groups, since that sort of thing would just continue to set me apart, accentuate my differences, and further isolate me.
It was all exhausting, and I felt limited. I was holding back who I am and who I strive to be. All I wanted was to be myself and do what I enjoy and what comes naturally to me—solving problems and writing code. But if my industry did not see value in me, and I continually felt this way, why was I continuing to fight?
One day I stood up and said no. No longer will I limit myself. No longer will I try to fit in with "the guys". I am an intelligent, experienced Software Engineer. I've worked in countless languages, solved problems others walked away from. And yes, I am a woman. That doesn't diminish my abilities, it only amplifies them. I have a unique perspective different from many of my peers. It wasn't me that had to change. For the first time in a long time I felt unstoppable.
Girrrl, Develop It!
Not long after, a good friend of mine invited me to the Girl Develop It Detroit monthly Code & Coffee event. The coffee shop was packed! Filled with women and men of all different backgrounds coming together to hangout, talk code, and meet new people. There was no judgement, no arrogance. The support and encouragement was off the charts. I stayed until the bitter end, and met some incredible people. I left certain of one thing, I needed to get more involved!
Never doubt that a small group of thoughtful, committed citizens can change the world; indeed, it's the only thing that ever has.

—Margaret Mead
Within a month I was a Teacher Assistant for Intro to Programming at the Girl Develop It Ann Arbor chapter. The supportive environment was awesome. GDI was creating an environment for women to be themselves, to learn and collaborate. Here was this supportive community of people who accepted and taught anyone who walked into their classes.
Each time an opportunity came up for me to volunteer my hand was in the air. I felt extremely fortunate to be able to support women in a way I never felt supported. I wanted each woman I met to know GDI was there for them. That it was possible to be be themselves and have an amazing engineering career.
Until I started going to GDI events I never really knew what it was like to not have my guard up. To feel completely accepted as I was, with no question of my abilities. It was freeing. The constant doubts I had about being in the right career diminished.
This past November I was invited to attend the Girl Develop It Leadership Summit. A weekend in Philadelphia with all chapter leaders from around the country. A group of nearly 90 women working to change the face of tech. I could walk up to anyone there and say, "Hi I'm Sara from Ann Arbor!" and then proceed to have a lengthy conversation about GDI, our different chapters, as if I was talking to a friend I've had for years. All of us supporting each other, all of us wanting the other to be successful. It was invigorating!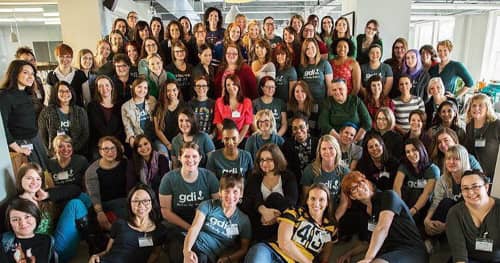 This past month I have since been promoted to Co-Leader of the GDI Ann Arbor chapter. I work alongside some incredible women! I never would have imagined when 2015 started all the amazing people I would met, and opportunities I would have.
Meeting so many amazing women at the Summit, with fantastic ideas, we have created an awesome 2016 event line up for GDI Ann Arbor! Follow os on Twitter, Facebook or Meetup to get notified of the events as we announce them.
Not close to Ann Arbor? Check out the GDI Chapters page to find a chapter close to you. Each chapter always has an open door to new members, volunteers and sponsors.
Don't see a chapter by you? Make it happen! Fill out the interest form to get started. Remember, this all grew from just 2 women with a passion to empower women.
Girl Develop It is changing lives, and I can't wait to continue to be a part of it and help it grow in 2016!