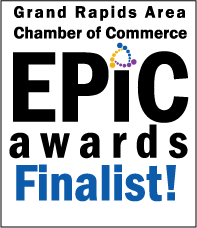 Congratulations Mark!
We're really proud and excited to announce that Mark Van Holstyn has made finalist for the EPIC Awards, hosted by the Grand Rapids Area Chamber of Commerce, in the category of Young Entrepreneur of the Year.
This particular award goes to an entrepreneur under the age of 35 who has built an extraordinary company, one with a positive impact that extends beyond revenue.
EPIC stands for Entrepreneurial, Progressive, Innovative and Collaborative, and these qualities are the basis for their awards. Businesses and individuals are eligible who "support the community, demonstrate growth, are innovative, and have worked with others as mentors and collaborators." We are honored that our efforts in the community have been recognized through Mark and this nomination.
Two other notable finalists have placed with Mark: Ryan Cook of Snap Fitness and Molly Claughs of The Silver Spork. The winner will be announced at the EPIC Awards dinner, which will be held on Wednesday, May 16, 2012 from 5:30 to 8:00pm.
You can read more about the EPIC Awards, the Grand Rapids Area Chamber of Commerce, and the awards categories here.